History of the Forney Museum
The Forney Museum of Transportation began as the private collection of Mr. J. D. Forney of Fort Collins, CO. From an early age Mr. Forney had an interest in cars, airplanes, and all modes of transportation. He was born in Enid, Oklahoma on January 27, 1905. Due to a family breakup, J. D. lived some of his childhood on his Uncle Mert's farm in Missouri. There he learned how to do a full day's work at an early age helping with chores. He ran away when he was 14 and was on his own from then on. He knew how to work hard, and delighted in doing a man's work and receiving a man's wages.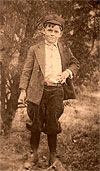 J.D. attended his first years of high school back in Enid, where he purchased his first car, a 1919 Model T Coupe. He spent his senior year in Sterling, CO, where his older brother Clarence was the Industrial Arts teacher. He also worked part time in the local grocery store, and played on the high school football team.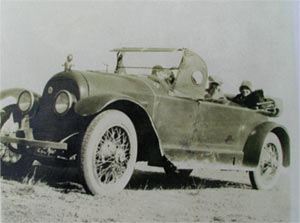 While a student at Sterling, J.D. traded his Model T for a used 1919 Kissel touring car.
He brought this car with him when he enrolled at Colorado A&M, (Aggies), which is now CSU. (He confessed that he had been ticketed for speeding around the oval there.) It was here at college that he met and courted Rachel Krickbaum in his Kissel car. A few years later, she was to become Mrs. J.D. Forney.
After years of hard farm labor, J. D. knew that he did not want farming to be his life's work. In his youth he had often sold products door to door to earn extra money and enjoyed the work. After college he began selling encyclopedias.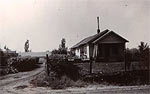 In 1932 the Depression limited sales and J. D. looked for other ways to support his family. He invented and patented a unique "Instant Heat Soldering Iron" and the Forney Manufacturing Company was formed. Its headquarters was the basement of his home in Ft. Collins, CO. where he began to manufacture and sell his invention, with considerable assistance from his wife.
This original soldering iron worked from a car battery and was ready to solder as soon as you touched the metal. In the early 30's, he developed a 110V transformer to operate the soldering iron. This then developed into a small welder, and after that, a larger welder.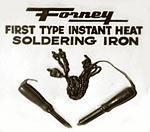 In the late 1930's, J.D. had a vision of a welding machine that would work with the electricity available from the newly developed REA farm electrical system. Such a welder had to be able to operate satisfactorily from small rural transformers. His was the first 'limited input welder'. When REA approved his welder, his vision moved forward rapidly. These welders were easy enough for the average man to operate, and soon Forney Manufacturing Company became known as the pioneer in "farm welding". For many years Forney Manufacturing led the nation in the production of farm welders.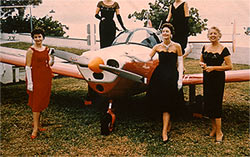 Other products followed, including battery chargers, spot welders, welding supplies, vacuum cleaners, training film production, water ski's, and even aircraft (Fornaire Aircoupe). The affiliated companies became Forney Industries.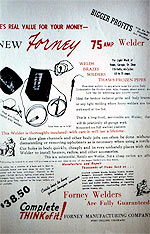 In 1955 J.D.'s wife Rae and son Jack, decided that J.D. needed a diversion from business and secretly conspired to locate a Kissel Kar similar to the one he owned in high school. They had hoped he would enjoy tinkering with the car and perhaps drive it to work or take it for Sunday drives.
A Kissel was found and Jack arranged to have it painted yellow. J.D. did indeed drive it to work quite often, and a photo of him in his Kissel was published in the "Forney Flashes", a Forney Industries weekly that went out to over 600 field representatives around the country.
As soon as the 'Flashes' hit the field a call came in to J.D. from one of the field representatives, "I have a 1915 Model T that I can trade straight across for a Model C Welder. Are you interested?" Similar calls began to come in. J.D. was no stranger to barter from his days in the cash-poor Depression and couldn't resist the temptation to acquire the cars he was interested in. He especially responded to calls that mentioned the owner needed to get rid of the car and was going to junk it or sell it to kids to make a hot rod. From then on J. D. began trading welders for and buying automobiles and carriages. The collection began to grow.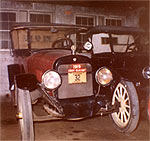 Jack was running the manufacturing plant and one of his employees was a draftsman who had grown up in his father's shop - a shop which restored antique automobiles. Jack mentioned to J.D. that he could release him for a half week at a time, if J.D. would like his help in restoring his growing collection. Within a month, Jack had to hire a new draftsman, as J.D. had him working full time on the cars. The manufacturing plant employed experienced welders, mechanics, carpenters, machinists, painters, etc., so many restoration projects began to be worked on between production schedules.
In time, J.D. began to receive invitations requesting the use of his antique automobiles in parades and events in nearby communities. Mrs. Forney was a collector of antique clothing, so often employees with their families, as well as the Forney family, dressed in authentic period clothing for the event, young and old alike. They were trained to drive the horseless carriages or classic cars.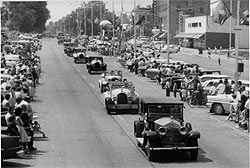 Parade in Ft. Collins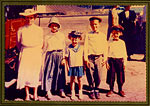 Forney grandchildren dressed for parade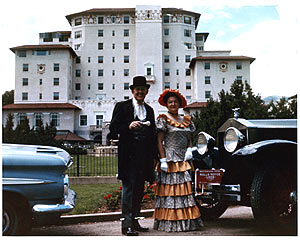 J.D. and Rachel at the Broadmoor for the Glidden Tour
Three or four times a year, 6 to 16 vehicles would become part of a parade or special event in the area. Jack and Pat's matched team of black Morgan horses were used to pull one of the elegant Victorian carriages in these parades. This required an entirely different sort of "driver". Often the cars were driven from Ft. Collins to the nearby community and drew quite a bit of attention as they rolled down the highway to their destination. This continued for about 8 years. At this time, it was still just J.D. and Rae's private collections and the idea for a museum had not yet emerged.
At first, the collection was housed in his garage, and an attached building J.D. had used to build welding equipment in the 40's. But Donart Printers, (an affiliated commercial printing firm on the premises) was growing, so a new building was constructed on LaPorte Avenue with the possibility that DonArt could expand into it. However, J.D. began storing some of his vehicles there before DonArt had expanded enough to move in.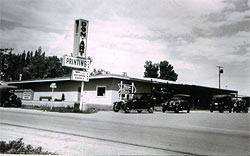 His collection began to occupy more and more of the space in the new building. The restoration shop was moved into the back of the building as J.D. began to acquire more vehicles that needed work, including some "basket cases". Donart made other plans for their expansion.
J.D.'s collecting continued. A small German locomotive was purchased from a New York amusement park. Motorcycles, buggies, wagons, carriages and most anything with wheels were added. Local residents and employee's families increasingly desired to view the collection, so J.D.'s grandchildren were enlisted as cashiers, and to dust and polish the vehicles. The collection was usually open on Saturdays and sometimes Sunday afternoons. Children were charged 10 cents and adults, 25 cents. The collection grew and grew, so in 1961, it was incorporated and became the Forney Museum, a non-profit charitable organization [501(c)(3)].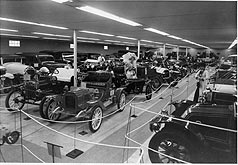 In 1965, Mr. Forney served on a planning committee bringing a Billy Graham crusade to Denver. Here he met Jerry Von Frelic who was the originator of "Cinderella City", one of the first giant shopping malls in the country. Mr. Von Frelic offered J.D. free rent if he would move the collection to his new mall. This would give the museum more exposure, while drawing people to the mall, a good deal for both of them. The museum remained there for about 2 years.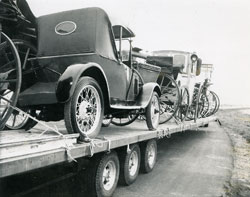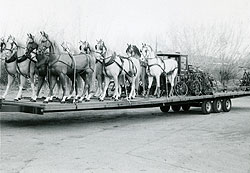 Moving to Cinderella City
Due to limited space and other operational difficulties, Mr. Forney began to seek a new location. His collection now numbered over 200 vehicles, including another locomotive and some rail cars. The Denver Tramway Powerhouse, a large brick historic building near the Platte River became available. The Tramway Power House was built in 1901 to house the boilers and engines to generate the electricity for the Denver Trolley system that blanketed the Denver Metropolitan area until 1950. Another collector, Dr. James Arneill, a prominent Denver surgeon, had several railcars and six antique automobiles. He partnered with J.D. to purchase the building to house both collections and was active in raising money for the Museum in it's new home. The collections were moved to the Powerhouse in 1968.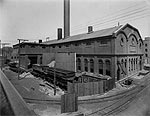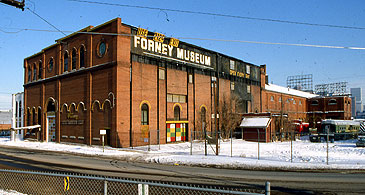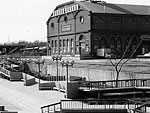 Shortly after the move, Union Pacific donated a 4884 Alco 'Big Boy' Locomotive, the largest steam locomotives ever built. Only 8 of these giants remain today. Donated vehicles of all sorts began to be more prevalent than acquisitions. These donations could be written off the donor's taxes, providing a benefit for both the museum and the donor.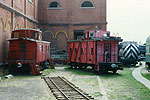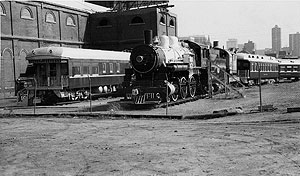 The Museum remained in the tramway building for 30 years, remaining a well known landmark along I-25. The museum, however, continued to grow and finally began outgrowing the Tramway building. Also, the high cost of restoring the continually deteriorating structure was becoming prohibitive. All restoration had to be done to historic site specifications and often involved considerable time navigating red tape and ongoing negotiations. Asbestos and lead paint in the old building had to be addressed also. Much of the time and money that was to have been used to upgrade the exhibits and make the area more comfortable for visitors was redirected to maintaining the building. The idea of moving the entire collection was staggering, and the museum made several efforts over the years to secure sufficient funding for the museum to continue operation.
J.D.'s health began failing in the mid '80s and Jack took over managing the activities of the museum. In October of 1998, under his direction, the Museum sold the Platte Street building to sporting goods retailer REI. It ran them around $40 million to restore the old building to a level the Museum could never have achieved. A warehouse facility on Brighton Blvd. next to the Denver Coliseum was purchased. Renovations began in 1998. With the help of many volunteers and the loan of needed equipment, most of the collection was moved to the new building by the spring of 1999. It took 2 years of negotiations, permits, track laying, etc. to move the Big Boy locomotive to its new home, ultimately costing over $750,000. (The moving of the collection is a story unto itself for another issue.)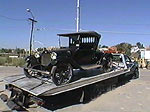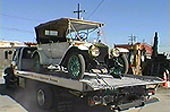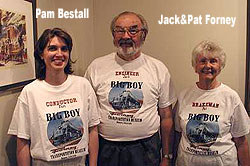 From the move to the opening of the "new" Museum, we were very fortunate to have hired our director, Pam Johnson Bestall, whose tireless work and creativity has been invaluable in this undertaking. Her interest in the collection and understanding of its historic value made her an extremely valuable asset.
Amy C. Neuman joined the museum as Director in 2007.
In January of 2001 the Museum opened to the public in this spacious 140,000 square foot facility. Only 70,000 square feet of space is now being utilized for exhibition and administrative purposes. The remaining space is available for future expansion when funds are available. The entire museum collection, including the train equipment and Big Boy steam locomotive, is now housed indoors.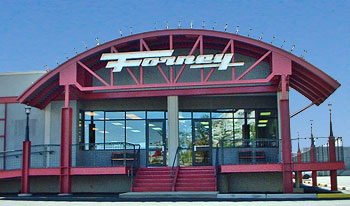 Front of the new museum building
Along with his wife Rae, J.D. spent untold hours with the museum over the years. Their children and grandchildren have also worked extensively on the museum. Jack Forney and his family continue to do so. Most museum exhibits are from J.D.'s collection and were donated to the Forney Museum of Transportation. Jack and Pat Forney have put a tremendous amount of time, energy and money into the Museum. It is through their dedication this historical treasure has been kept alive.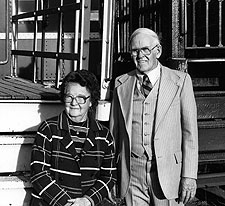 J.D. & Rachel Forney
Jack & Pat Forney
The entire museum collection was moved from the Tramway building to the current location, but not everything is on exhibit at one time. So stop back often to see the changing exhibits.