1934 Pierce-Arrow Limousine
12 Cylinder Model 1248A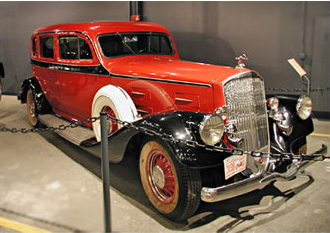 Pierce-Arrow Motor Car Company Buffalo, NY
The original company was founded in 1865 as Heinz, Pierce and Munschauer. Their products were household items such as iceboxes and birdcages. In 1872 Pierce bought out the other two and named the firm the George N. Pierce Company. Bicycles were added to the line in 1896. In 1900 an attempt was made to build a steam car. That effort failed, but in 1901 they came out with the single cylinder Motorette. They made a two-cylinder car named Arrow in 1904. Their four-cylinder model was named Great Arrow. They entered the newly formed Glidden Tours and won it for the first five years in a row.
It was in 1909 that George Pierce added the Arrow to the name and changed the company name to the Pierce-Arrow Motor Car Company. The famous fender headlamp was added in 1913 and remained their most identifying feature.
In 1928 the company merged with Studebaker, although Pierce-Arrow apparently operated as a separate entity.
In 1931 Pierce-Arrow introduced the 12-cylinder car. They entered it in the Bonneville Races and broke 14 international records with it. As the story goes, in the final hour of a 24-hour race, at the speed of 125 mph., the driver, A.B. Jenkins, took out a safety razor and after winning the race, exited the car clean-shaven.
After Studebaker failed in an attempt to buy the White Motor Company in 1932, they sold all their stock on Pierce-Arrow for one million dollars. They still went into receivership the next year and officers of White Motor Company were appointed to run Studebaker in 1933. Pierce-Arrow Motor Car Company was sold at auction in 1938.