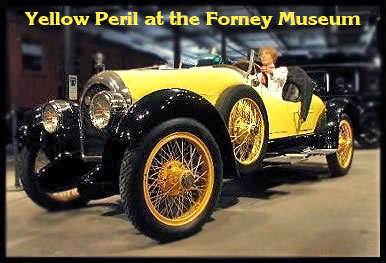 1923 Kissel Speedster
Model 45 "Goldbug"
6 cyl. -- 41 hp
Owned by Amelia Earhart
1924-1929
After her parent's divorce, Amelia, her mother and sister Muriel decided to move to Massachusetts. Muriel went ahead by train to begin summer classes at Harvard and established a home near Boston. Amelia and her mother remained behind in Los Angeles for a time.
This was when Amelia bought her Kissel. She did not like the idea of traveling by train across the country and thought that the car excursion would be second only to her dream of flying across the continent. She often called her car the "Kizzle," but later referred to it as the "Yellow Peril." The name seemed quite apt. Those who knew her said she was quite the speedster around town. Amelia confessed that she learned how to fly before she learned how to drive a "motorcar."
Amelia and her mother left Los Angeles for Boston in May 1924, traveling through Sequoia, Yosemite, Lake Louise and Banff. They drove across Canada and arrived in Boston 6 weeks later.
Considering the condition of roads at that time and the rarity of mechanical help, especially in the more remote areas, this was a daring adventure covering 7,000 miles and covering the car with tourist stickers. Cross-continental travel by automobile was still a novelty, so Amelia and her mother were continually stopped by people and asked many questions.

Photo from:

The Sound of Wings
She found the bright yellow car, unremarkable in Los Angeles, to draw attention across the country. "The fact that my roadster was a cheerful canary color may have caused some of the excitement. It had been modest enough in California, but was a little outspoken for Boston, I found."
Click here to read more about Amelia Earhart
---
More About the Kissel Kar
---
On June 5th, 1906, Louis Kissel and his sons decided to get into the automobile business and formed the Kissel Motor Car Company, based in Hartford Wisconsin. Their first car, The Kissel Kar, was offered in 1907. The Kissel Kar had a conventional four-cylinder, 35-horsepower water cooled engine. They were a bit unusual in that they began making almost all of the components for its cars themselves, including the engines. In 1909, a six-cylinder model was introduced, electric starters were added in 1913, and a short-lived Double Six V-12 was introduced in 1917.
.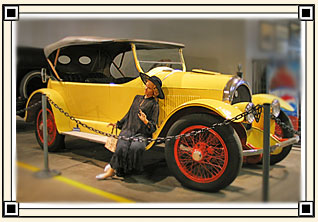 1921 Kissel Tourster
The company's reputation was based on quality, durability, advanced design, outstanding performance, and dependability, which they were able to provide because they were a low production company. The name Kar was dropped during WWI, as anything that sounded German was unpopular at that time.
Kissel also produced a model called the All-Year. It had a removable hardtop with glass windows and curtains. It made the Kissel into a closed car, and passengers enjoyed the protection from the elements.

Kissel's look began to change in 1917, under the guidance of Conover T. Silver, the New York Kissel distributor and part-time designer. With his encouragement, Kissel developed the Kissel Kar Silver Special Speedster in 1918, named after Mr. Silver himself.
---
The Goldbug
---
The Kissel Gold Bug was born when the Kissel chrome yellow became so popular that it was made the standard color. The nickname "Gold Bug" stuck, though it was never the official name. Kissel referred to them as Speedsters.

| | |
| --- | --- |
| The Gold Bug was indeed a sporty roadster with a special flair. – cutaway doors, wire wheels, bullet-shaped headlamps, nickel-plate trim, convertible tops with portholes and pull-out drawers containing a fold-up seat. It was a rather frightening and uncomfortable ride, seated outrigger-style outside the car's body, so this feature was replaced in 1924 by a conventional rumble seat. Automobile Quarterly Spring 1917 called these seats "neat and practical at the sedan speeds at which cars were driven in town in those days, but surely a hairy experience in the country." (Gold Bugs were reported to hit 70 mph! ) | |
| | With it's bright yellow color and stunning good looks, the Gold Bug became a favorite with celebrities, such as Mary Pickford, Douglas Fairbanks, Fatty Arbuckle and William S. Hart.Singer Al Jolson and popular bandleader Eddie Duchin owned one. Boxer Jack Dempsey, and auto racer Ralph De Palma drove Kissels. |
The Kissel's were in many films, but achieved stardom in "The Eddie Duchin Story" starring Tyrone Power and Kim Novak.

The Kissel company was hurt badly by the post-WWI recession, but continued to produce the glamorous Gold Bug. Never a large producer, it sold 2,123 vehicles in 1923, but sales dropped disastrously to 803 in 1924.

A straight-eight cylinder engine was introduced in 1925. Kissel started buying its cylinder blocks from Lycoming, rather than making their own. Kissel continued to add the quality touches they were known for.

Floundering, Kissel made the last Gold Bug in 1927. The Great Depression and a calamitous deal with Archie Andrews, a high-flying entrepreneur, sent the company into receivership in late 1930.

Though the Gold Bug was never as fast as a Stutz or Mercer, it's classy lines and brilliant yellow paint made it an endearing car. It's the Gold Bug that is the automobile that Kissel is best remembered for.